Sharing an SSH Tunnel with other devices on your home network.
Last updated by Shayne M on May 22, 2013 09:12
In some situations you may want to simply connect 1 computer or device on your home network to one of our SSH servers, and configure other devices to use this new tunnel.
Using VPNS SSH Tunnel Manager on Windows
Select Settings > Advanced
Select either a SOCKS or HTTP tunnel
Next to "What IP should the SOCKS/HTTP tunnel listen on?" select the your external network IP you want to share on instead of the default 127.0.0.1.



Using Putty on Windows
In the putty configuration, under Connections > SSH > Tunnels
Make sure that "Local ports accept connections from other hosts" is ticked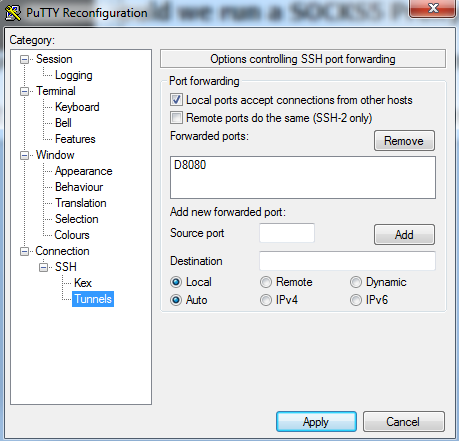 When connecting using the Terminal in Linux or Mac OSX
When connecting the tunnel as per our setup guide , simply change the -D switch to include the IP you want to share the connection on.
For example:
ssh -C -D10.0.0.1:8080 -P443 

[email protected]
Swapping out 10.0.0.1 for the local network IP you want to share the tunnel on.
VPNSecure Provides Secure VPN servers in over 45+ Countries
If you are a looking for a versatile easy to use VPN service, checkout Today