OSX Mountain Lion - Installing unsigned applications
Last updated by Shayne M on May 22, 2013 09:23
Note, this article only applies to Mountain Lion i.e. OS X 10.8
If you're Mac OS X user, you may have already upgraded to the latest version called Mountain Lion. By default this new version of OS X will only allow you to install applications downloaded from the App Store.
Whilst in theory, this is a great idea, unfortunately there are a few issues with its implementation. Specifically, the terms of the App Store license do not appear to be compatible with the commonly used Open Source license (GPL) and the App Store will not permit privileged applications such as Tunnelblick, our preferred VPN application. All is not lost and there is a way around this, but it's bit of a pain!
If you download software from anywhere other than the App Store, you will probably see one of the following errors (in these examples, we are trying to install an application called Tunnelblick):
1. Application Tunnelblick can't be opened because it is from an unidentified developer.
or
2. Application Tunnelblick is damaged and can't be opened. You should eject the disk image or move it to trash.

[img src="http://support.vpnsecure.me/attachments/token/mkfyjancgs91ixw/?name=1-shadow.png" alt="1-shadow.png">
Before you can install unsigned software, you have to change your security settings.
Note. Please only do this for software that you trust! Apple have taken this step to protect you the customer from rogue third party applications. We strongly recommend that you do not leave this setting off and that you only temporarily disable it to install trusted software from nice people like us!
---
Click on the Apple icon in the top left corner of your screen and choose System Preferences.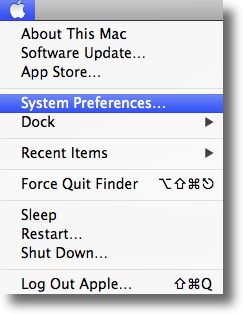 Next, click on Security & Privacy icon.


To edit the security setttings, you must first click the padlock icon in the bottom left of the window.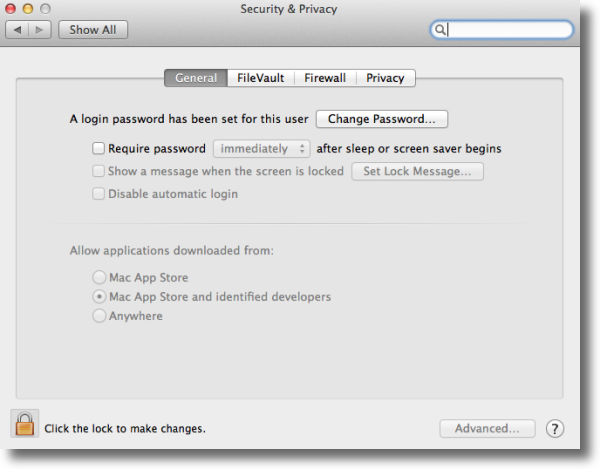 You will be asked to confirm your Mac credentials, just enter them and hit Unlock.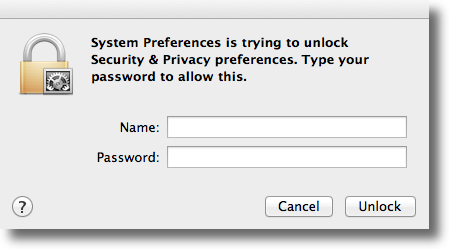 On the following screen, you'll see the options for "Allow applications downloaded from", you need to click on the "Anywhere" radio button, once you click that you will see a confirmation window, click on "Allow From Anywhere".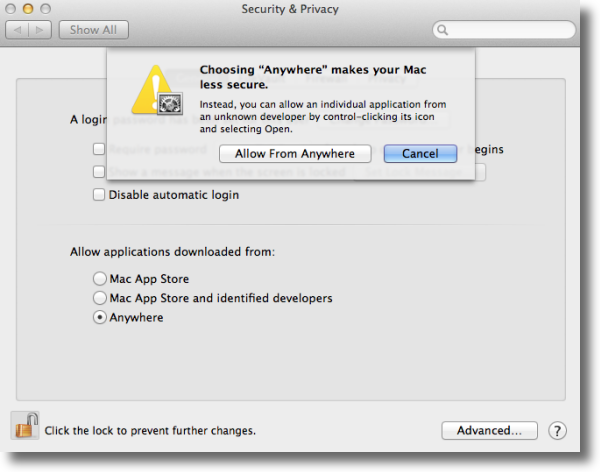 ---
That's it! You may now install Tunnelblick or any other application that is not available through the App Store.
We strongly recommend that you set this option back to "Mac App Store" or "Mac App Store and identified developers" once you have finished installing the unsigned software. You can always change it back again later and it will prevent you, or someone else using your computer, from installing unsigned and potentially untrusted software.
VPNSecure Provides Secure VPN servers in over 45+ Countries
If you are a looking for a versatile easy to use VPN service, checkout Today