iPhone & iPad Proxy Setup Guide
Last updated by Shayne M on May 25, 2013 18:42
With firmware version 1.1.3 or later you can easily connect to a HTTP Proxy under Wi-Fi on an iPhone or iPod touch. This can be setup by following these steps:
Go to the Settings Application
2. Go to General > Network > Wi-Fi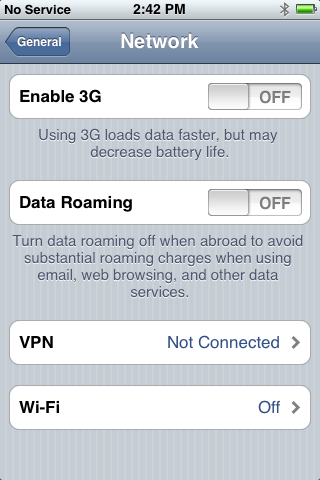 4. Edit Wi-Fi connection, scroll down and find "Proxy HTTP " and press on "Manual" , here we need to fill all proxy connection settings.

Server: Login to our members area and press the blue "server information" button to see available server addresses
Port: 8080
Authentication: enabled
username: YOUR VPN Secure USERNAME (Lowercase)
password: YOUR VPN Secure PASSWORD
VPNSecure Provides Secure VPN servers in over 45+ Countries
If you are a looking for a versatile easy to use VPN service, checkout Today