Chrome Proxy Setup Guide
Last updated by Shayne M on May 25, 2013 19:01
VPNSecure.me Chrome Proxy Setup
Chrome Extension:
We recommend using our Chrome Extension which is available on Linux Mac and Windows for simple and advanced proxy features
Chrome Extension Video Tutorial
Video Tutorial
Manual Setup:

VPNSecure.me provides a free anonymous Proxy with all accounts. Setup with Chrome is simple.
Select Tool icon (top rights) -> Options (Figure 1.1).
Select Under the hood -> Change proxy settings(Figure 1.2)
Select Manual Proxy Configuration(Figure 1.3)
Enter proxyus2.vpnsecure.me (More servers available from Members area) into HTTP Proxy
Enter 8080 into Port
Optional: Select "Ignored hosts".
Optional: Enter is domains such as mail.google.com to exclude from the proxy.
Select OK.
Close and reopen your web browser.
Enter your username and password.
You will now be connected to the VPNSecure.me network.
Please Note: In some combinations of Windows and Chrome versions, once you click "change proxy settings" it will launch an Internet Explorer configuration window. In this case simply continue from point 2 of the Internet Explorer proxy setup guide.
Screenshots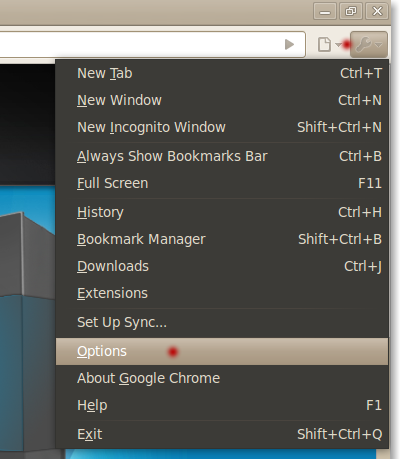 Figure 1.1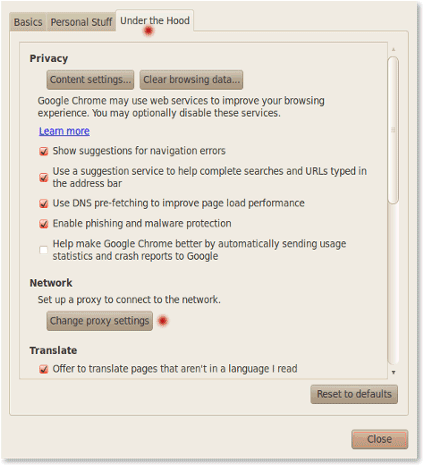 Figure 1.2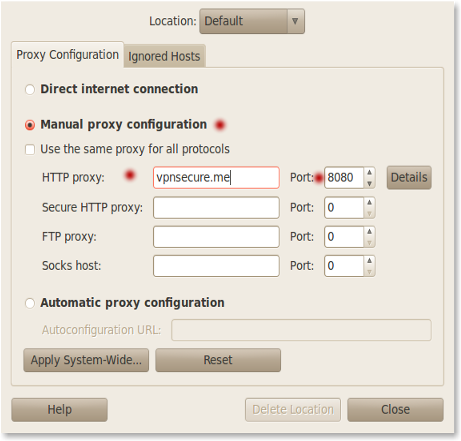 Figure 1.3
VPNSecure Provides Secure VPN servers in over 45+ Countries
If you are a looking for a versatile easy to use VPN service, checkout Today