OpenVPN Suggested Speed Improvement
Last updated by Shayne M on July 31, 2016 13:07
In some specific cases, adjusting some tunnel parameters may help increase the speed of the tunnel for you.
1) Open the VPN client.
2) Click on the Menu at the top left.
3) Select Settings
4) Select Advanced Config
In the OpenVPN Directive Field, please add the following one by one, clicking the Add button after entering in each line.
tun-mtu-extra 32
mssfix 1250
Once completed it will look like the below.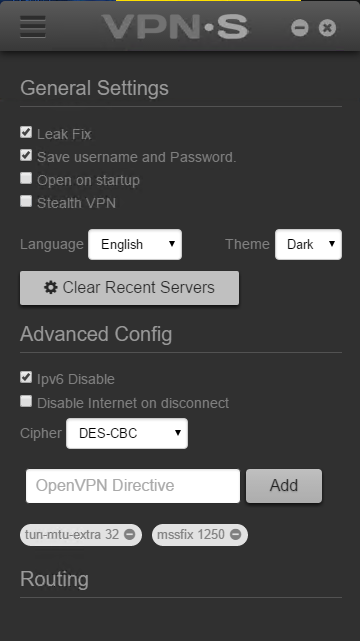 If this decreases your speed, we would suggest changing mssfix to 1350, then to 1450 - If this does not improve the speed then please remove these settings, trying TCP servers may also resolve the issue depending on your ISP/local configurations.
Locally installed firewalls may also cause a problem, Firewalls try to inspect the outbound/inbound traffic and because of the encryption it's unable too, this will slow down the VPN connection.
You may need to add "openvpn.exe" to the whitelist of your firewall program
Located in C:\Program Files\VPNSecure\lib\bin\windows\openvpn.exe
VPNSecure Provides Secure VPN servers in over 45+ Countries
If you are a looking for a versatile easy to use VPN service, checkout Today